Couples Only - Tantra Massage Course and Yoga Retreat
In our well structured workshop that is open for couples only we will introduce you to theoretical and practical Tantra Massage teachings.   
You will find out how to increase levels of pleasure through magical touch.   
You will learn fundamentals of how to awaken sexual energy in the human body, how to activate it and circulate it in order to achieve deeper level of intimacy with yourself and your partner. You will also be taught how to use this mystical energy for your own and your partners benefit, how to use it for healing and rejuvenation.   
You will be inspired by the demonstrations of this powerful art of touch. 
These teachings will bring you to new dimension of your sexuality and spirituality.
Bringing Tantra massage in to your lives will help you to creat
even stronger connection between you and your partner.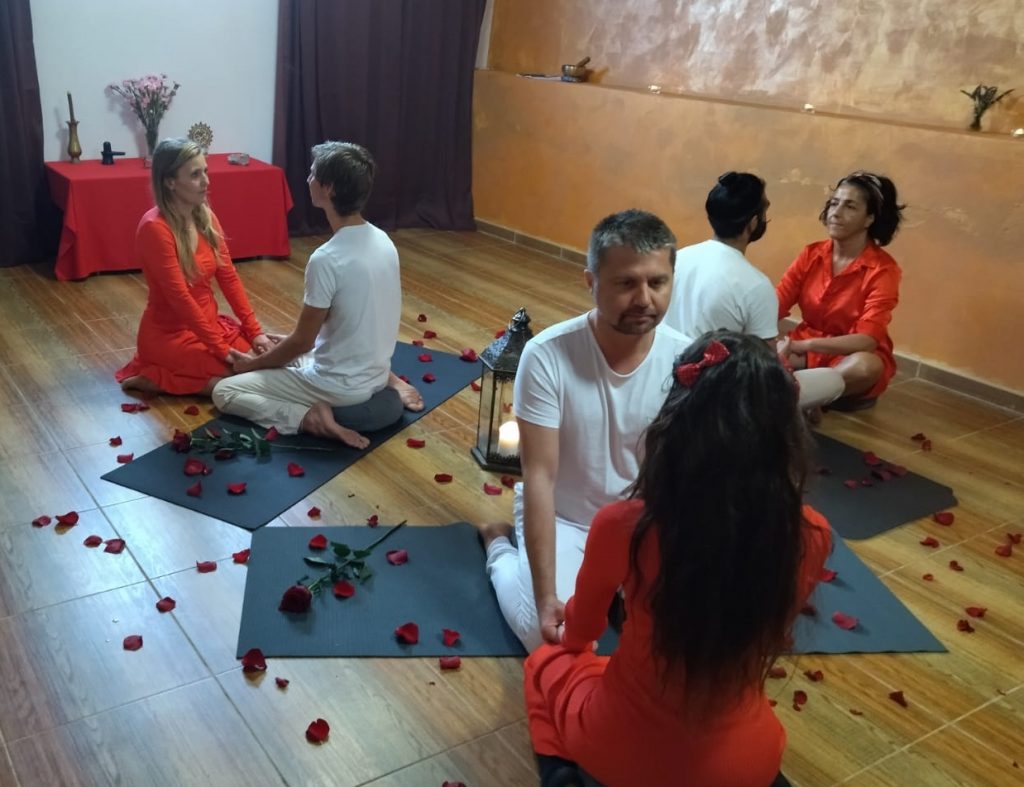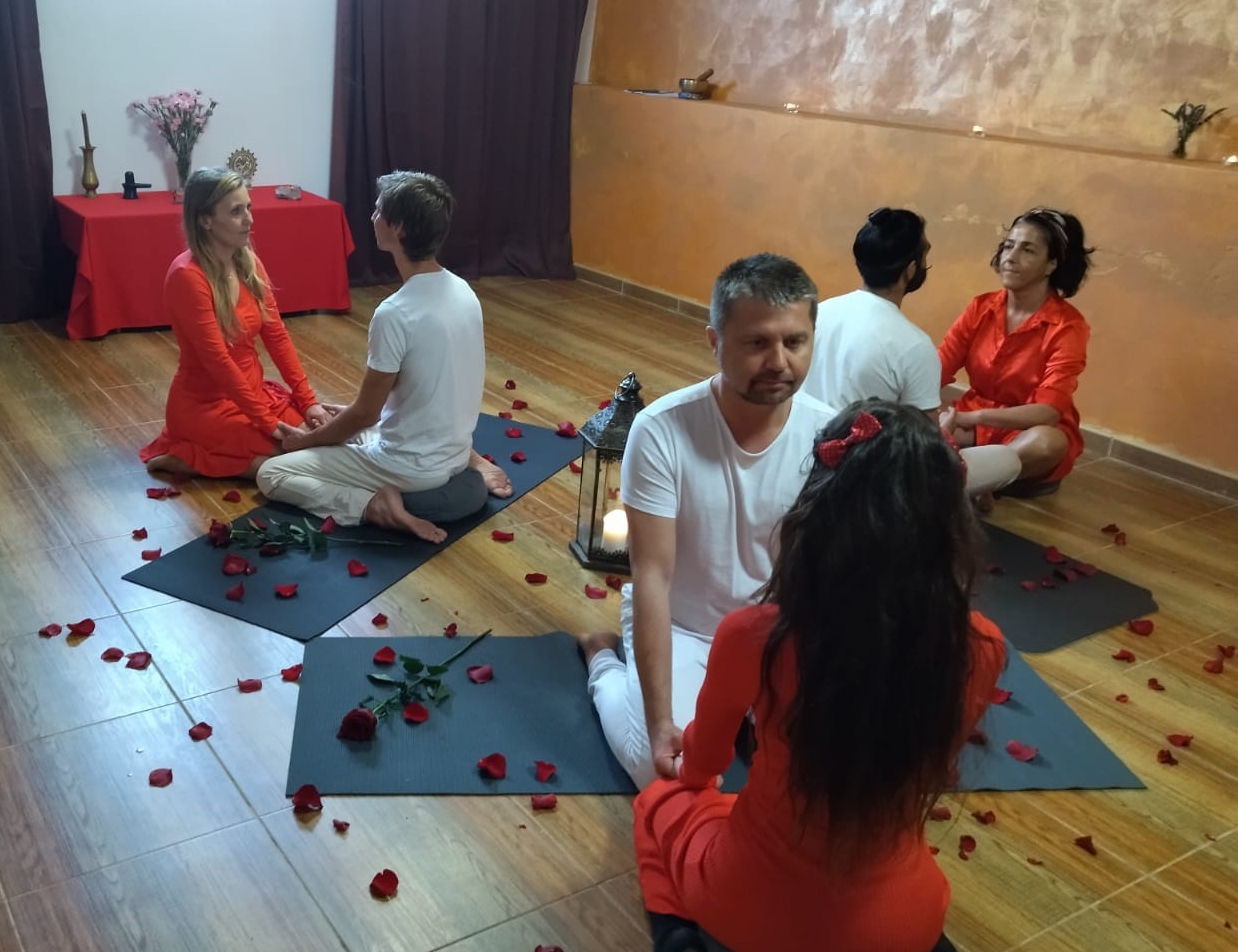 You will learn about and practice the following:  
What is Tantra and Tantra Massage   
Taking the first steps in the Tantric art of touch   
Tantric couples meditation   
Basics of human energy structure and its relevance in Tantra Massage   
Step by step Tantra massage techniques for the whole body   
The most beneficial movements and techniques in Tantric yoni and lingam massage     
Yoni mapping  
How to skillfully master sexual energy   
Important energy points and massage techniques to increase the energy flow and much more       
It is our goal to pass on authentic teachings in a pure, genuine and accessible way.   
Important note     
The courses include nudity and intimate personal touch, therefore it is important for the individuals who are joining to approach it with due respect and maturity.       
Please realistically evaluate yourself before applying. There is no explicit sexuality in this training and no explicit sexual activity is part of the curriculum.  
We do not use massage tables in our courses and work solely on the floor. This method is most efficient for the control of energy and the execution of our massage techniques.
Working from the floor initially can be challenging for modern people, however, we do find that this generally eases as the course unravels and progresses. Nonetheless, we ask you to please assess your own current physical state to determine if you are able to fully participate in this course.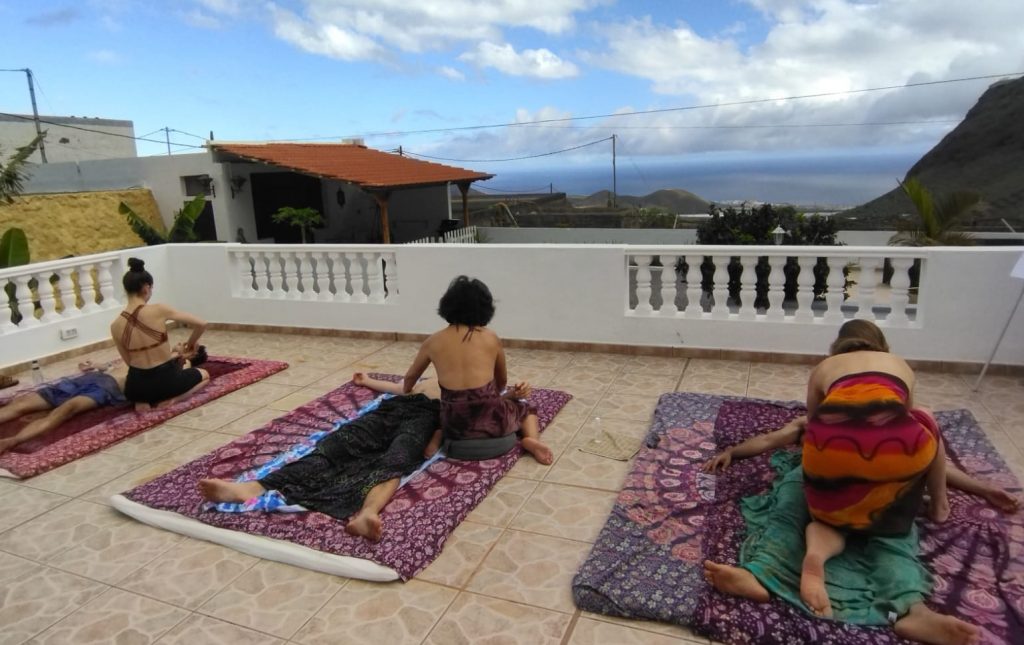 Course Schedule      
Day 1: Arrival, introduction and welcome dinner   
Days 2-4:  Teachings and practice of Tantra massage for approximately eight hours daily   
Day 5: Final practice of Tantra massage, course-ending ceremony and conclusion by 15:00.  
The schedule may vary due to the nature of the teachings and needs of the group, but generally, our training schedule will look like the following:   
8:00 Morning yoga and meditation practice for energizing and building up vitality.  
9.00 Breakfast.
10:00 Teaching and practice sessions. 
14:00 Lunch and rest. 
16:00 Teaching and practice sessions.  
19:00 Dinner.
20:00 Sauna.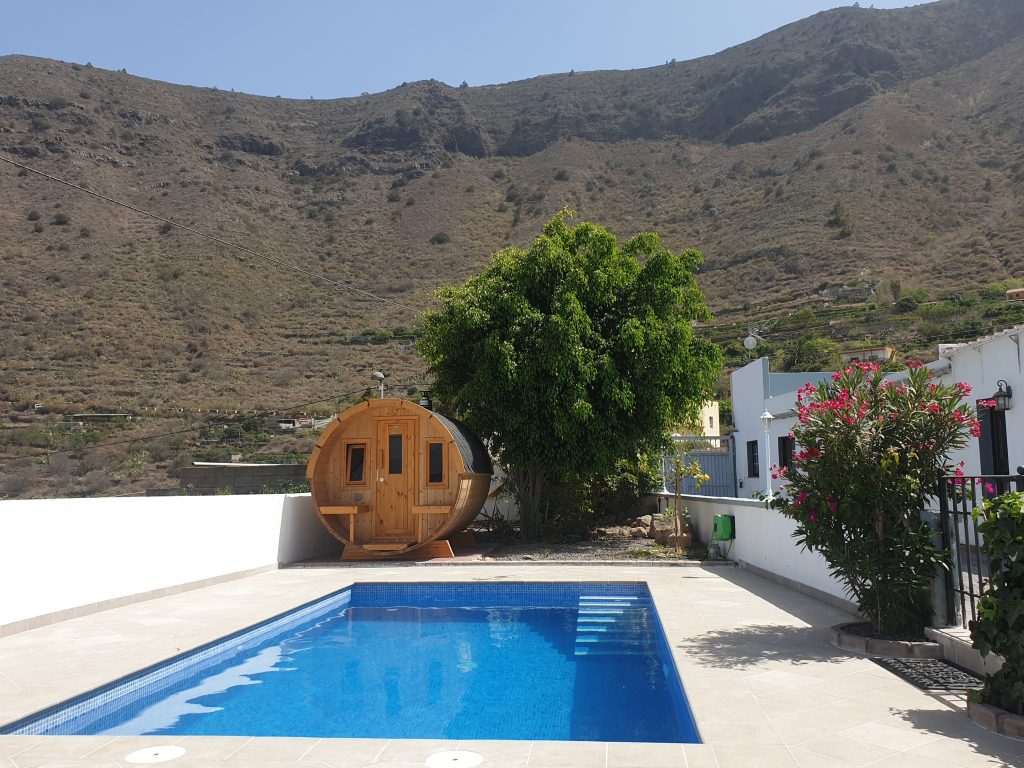 For the couples only retreats there are two different options of accommodation
You can choose from staying in
Private guest house with own terrace or Double room in the main house with private bathroom
Important information: We aslo have a dog and a cat living on our premises:)
All meals are home-cooked with the use of vegetables from our own garden (depending on the season).
All food that is served is vegetarian and vegan friendly
You need to inform us in advance in case of any allergies or special diet requirements.
Fee for five days Couples Only all inclusive residential course:
Accommodation option 1)

Double room in the main house with private bathroom
Full price €1500 for couple (€750 per person).
Accommodation option 2)
Private guest house with terrace
Full price €1650 for couple ( €825 per person).

Airport transfer is included with this retreat.
To book this unique retreat please contact us by email. When your course dates are confirmed €500 (€250 per person) deposit payment is required (this amount is included in the prices above).

on your arrival for the retreat.
Retreat fee includes:
Selected accommodation.
Two nutritious and delicious vegetarian/vegan meals per day.
Healthy snacks throughout the day.
Daily yoga and meditation practice.
All teachings and course materials.
Tantra massage practices.
Use of Sauna and Pool.
Transport from Tenerife South or Tenerife North airports to the venue and return(extra cost).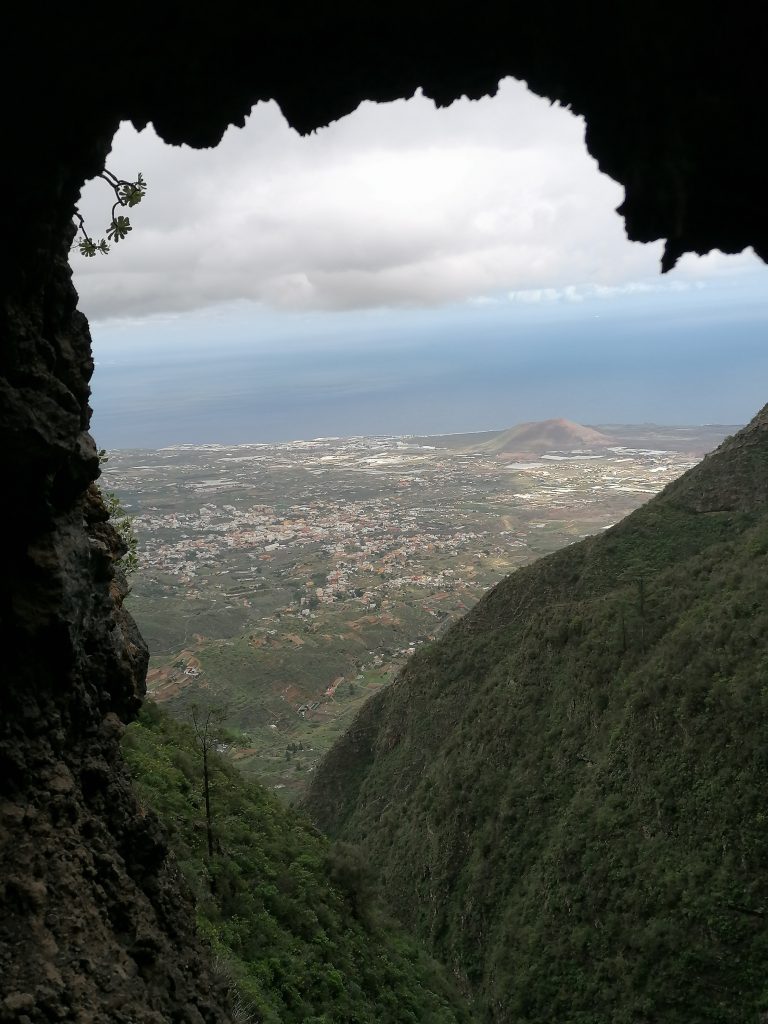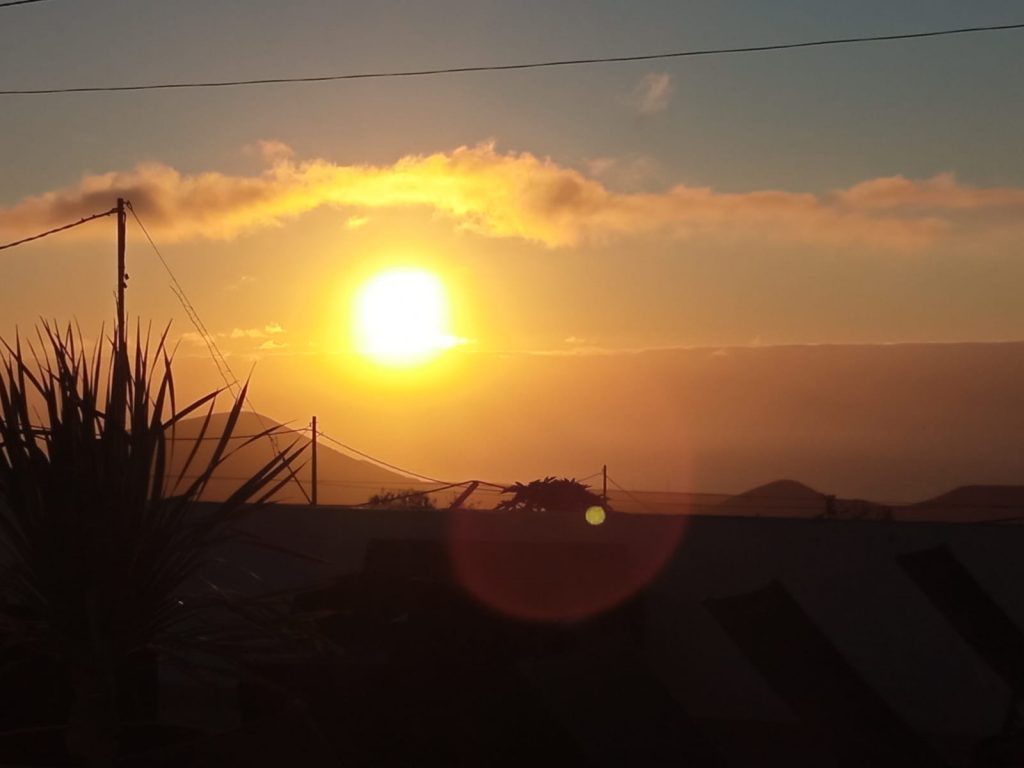 Available Dates for Couples Only Tantra Massage Retreat
*
10th to 14th April 2023
*
15th to 19th May 2023
*
5th to 9th June 2023
*
11th to 15th August 2023
*
18th to 22nd September 2023 – ONLY ONE SPOT LEFT
*
19th to 23th October 2023
*
13th to 17th November 2023
*
18th to 22nd December 2023
Secure your place NOW with only €500 deposit
(€250 per person
To insure the harmony and better balance of the group this course can be joined by application only. After your deposit payment you will receive an application form to complete to ensure you meet the required criteria.

This does not reflect on the attendee personally in any way. Our considerations are made based solely on the need to build a harmonious and successful group. If you are not accepted once, you can apply to our next course. You will probably fit with another group.
In the event that you are not accepted for the course you will receive a full refund of your payment.
Please DO NOT make any travel arrangements until your course is confirmed.
The Venue
This Couples Only residential Tantra Massage course, Yoga and Meditation retreat takes place in our beautiful finca located in the quiet, sunny part of Tenerife at the bottom of the mountains close to the small town of Guimar. With the panoramic views of the ocean and the mountains close to the sandy beach in El Puertito.
It is absolutely perfect place for Tantric retreat. You will also have use of the swiming pool and sauna for you to enjoy every single moment of your Tantric experience with us.