Tantra Massage Experience
We provide two and four hands Authentic Tantra Sensual Energy massage for
both male and female clients. We also offer Tantric sessions for
couples.
We want to help your heart, body and mind to open up to the new powerful
experience. Our goal is to help you to reveal this unspeakable pleasure,
to bring you closer to the state of true joy.  
We do our best creating relaxing ambience for our clients.  
Only the best quality natural oils, nice music, exotic scents and soft candlelight.  
Our Tantra massage sessions take place in specially designed Tantra massage treatment room in the privacy of our residence with shower facility provided.  
Tantra massage can't be rushed therefor we recommend longer sessions to bring you closer to the state of real bliss and fully benefit from your experience.

Two Hands Tantra Massage Session
This session can be booked with Ivan or Stella.
You will unwind yourself with us and escape from the daily chaos of life full of stress, worries and tension.  
Your session will begin with meditative breathing that will help us to connect to each other and will make you feel more calm and relaxed.  
Then you will experience techniques from North Indian Ayurvedic massage all over your body. We will also focus on the specific Marma points to open up your nadies (energy channels) to allow prana (energy) flow more freely.   
When you become more opened and relaxed we will slowly move to (optional) lingam massage for man and (optional) yoni massage for women.   
This massage is from head to toe and won't leave any part of your body untouched.  
It will help you to unblock your sexual energy and move it to the higher parts of your body to your higher chakras.
90 minutes session €150

Two hours session €200
Three hours session €300  
Four hours session €400
20% discount is offered for the residents of the Canary islands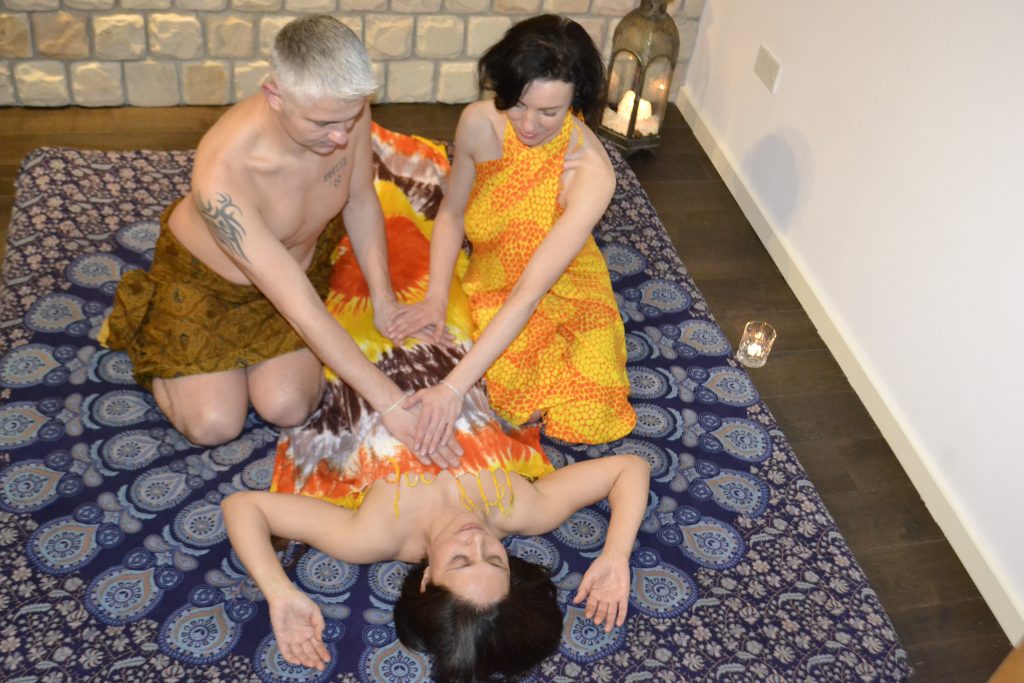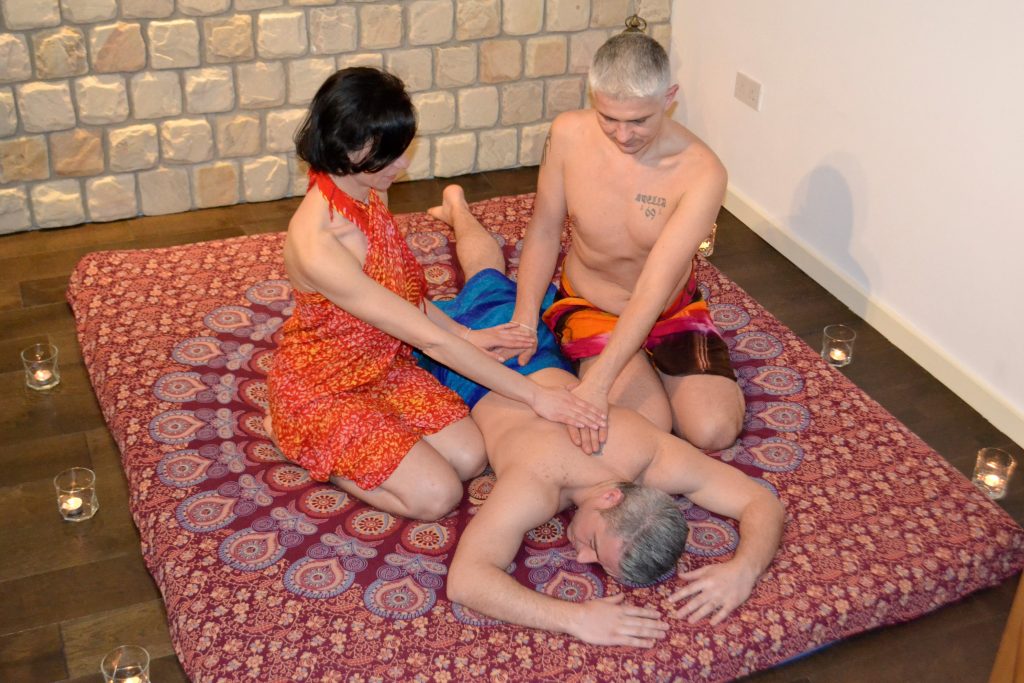 4 Hands Tantra Massage Session
This session is done by both therapists Ivan and Stella
Our four hands Tantra massage sessions are very popular along our clients.
In its pattern they are similar to to two hands sessions, but much more powerful and fulfilling. With a regular two hands massage you can predict the pattern. With two sets of hands and the combination of male and female touch and energy the brain can't keep track of the movement which leads to a much deeper state of relaxation and much more powerful peak. Four hands massage not only just
doubles the pleasure, but is also more stimulating and more powerful. During four hands massage each of us is working on the separate parts of the body at the same time.  
This massage will help you to relax deeply and will take you to the seventh heaven. 
Four hands 90 minutes session €250
Four hands two hours session €350  
Four hands three hours session €450
20% discount is offered for the residents of the Canary islands
Tantra Massage Experience for Couple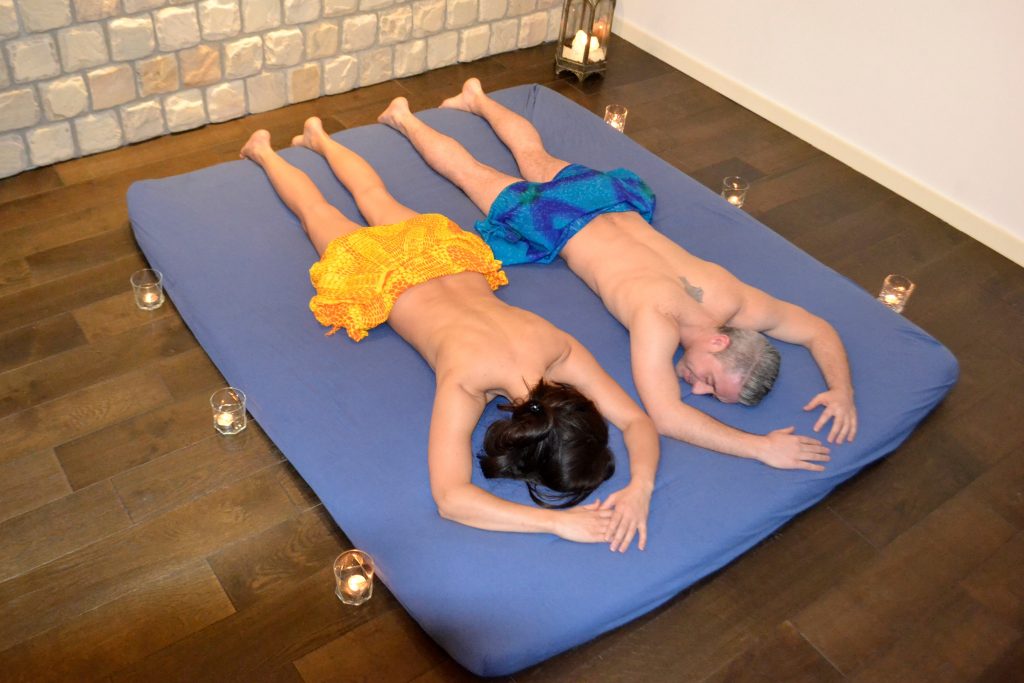 This session is done by both therapists Ivan and Stella
Couple's Tantric massage is the perfect way of trying something new and for many
couples it could help to heal relationship problems. This is absolutely safe and unforgettable experience awakening your senses and creating even stronger connection with your partner. Bringing tantra massage in to your personal life allows you to observe your partner receiving sensual pleasure and being taken to the state of bliss.  
Both partners receive massage at the same time, being close to each other in the beautiful, calm and relaxing atmosphere.     
We use specific sensual techniques and touches to awaken your energy and achieve a higher state of consciousness. When awakened this energy allows to heal your body by releasing old mental and physical blockages.
Our massage will help you to become more personally empowered and confident. After the session you will feel very relaxed but filled with energy and in harmony with yourself and the world around you. You will feel stronger connection between your body and mind, between yourself and your loved one.  
Couples 90 minutes €250 
Couples two hours session €350  
Couples three hours session €450
20% discount is offered for the residents of the Canary islands
Tantra Massage Experience with Overnight Stay
During this one day retreat you will be able to totally forget your daily worries and escape into the moment of peace and calmness that you deserve at the privacy of our residence.
This option includes:
Overnight stay at our guest house with the use of pool and sauna.
You will experience very powerful mind blowing 90 minutes Authentic Tantra massage (You can also book longer or four hands session).
Healthy and nutritious dinner.
Morning Meditation and Yoga practice.
Delicious healthy breakfast.
All this is included in the special price €250 for one person or €350 for couple.
Advanced booking is recommended to secure your preferred day and time.      
To schedule your appointment please call us on +34699688882  and enjoy this amazing experience for your body, mind and soul.